Stainless Steel Strips -Wide band saw blades
Clients can avail from us a broad assortment of Stainless Steel Strips in varied specifications as per their needs and preferences. Widely used for joining hinges and packaging, these products are highly demanded by clients across the industrial and commercial sectors and heavy duty industries. These strips can be customized in tandem with the specifications detailed by our clients.
Сечила Ленти за пила од сите модели од Прохром
FORESTILL
®

Steel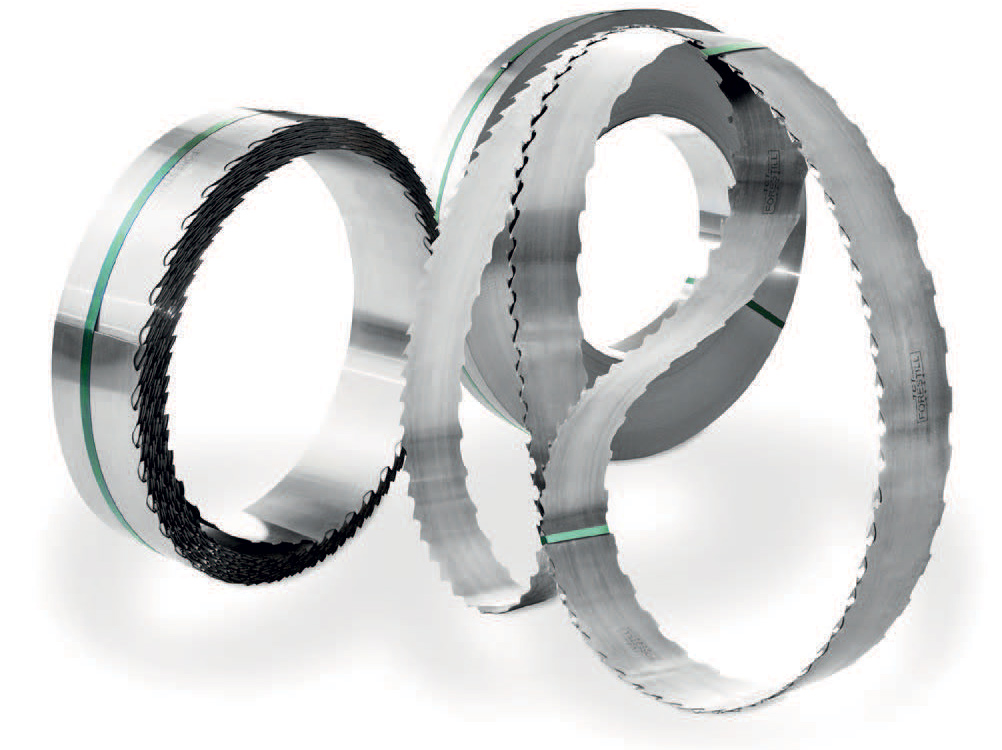 FORESTILL® steel has been specially and exclusivly designed to produce band saw blades for wood. Made from a very pure ore, its production is based on very strict technical datas. From the quality of casting, to warm then cold rolling throught several hardening and annealing operations controls at every stages of production as well as a deep final inspection, ensures the highest quality level. Adapted to all types of band saw blades for wood its ductility, its toughness is suitable for setting or swaging. Its very good wear resistance enables a better cutting strenght. A high impact line gives it a sufficient elasticity to avoid cracks in the tooth gullet. Its perfect polished bright surface, flatness and straightness guarantee an easy and lasting servicing.
Finitions
Bandsaw blade body



Bandsaw blade body finish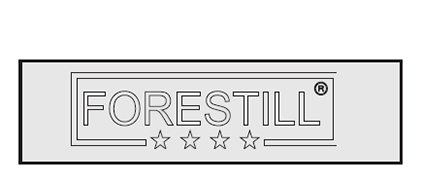 Strip steel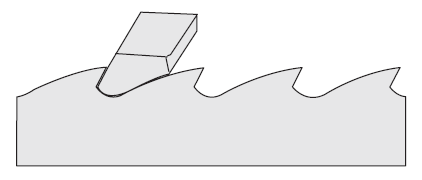 Toothed only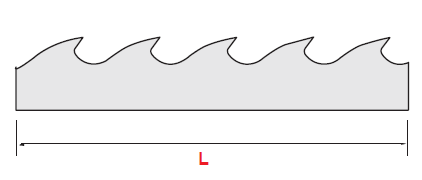 Lenght toothed only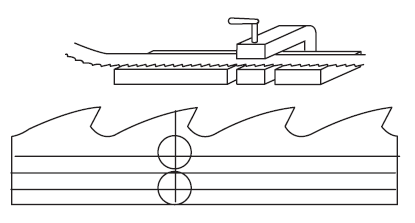 Planished, leveled, tensionned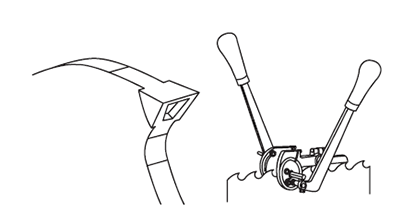 Swaging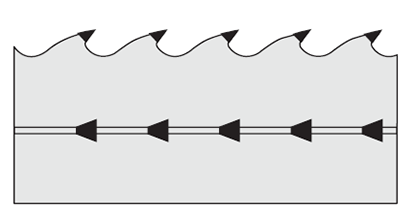 Forestell tipped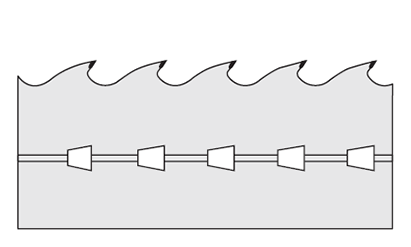 HM tipped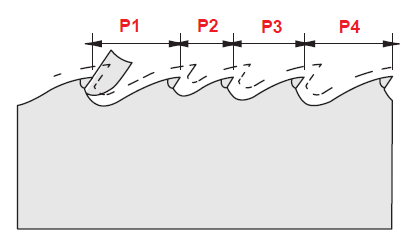 Variable pitch
Programme de fabrication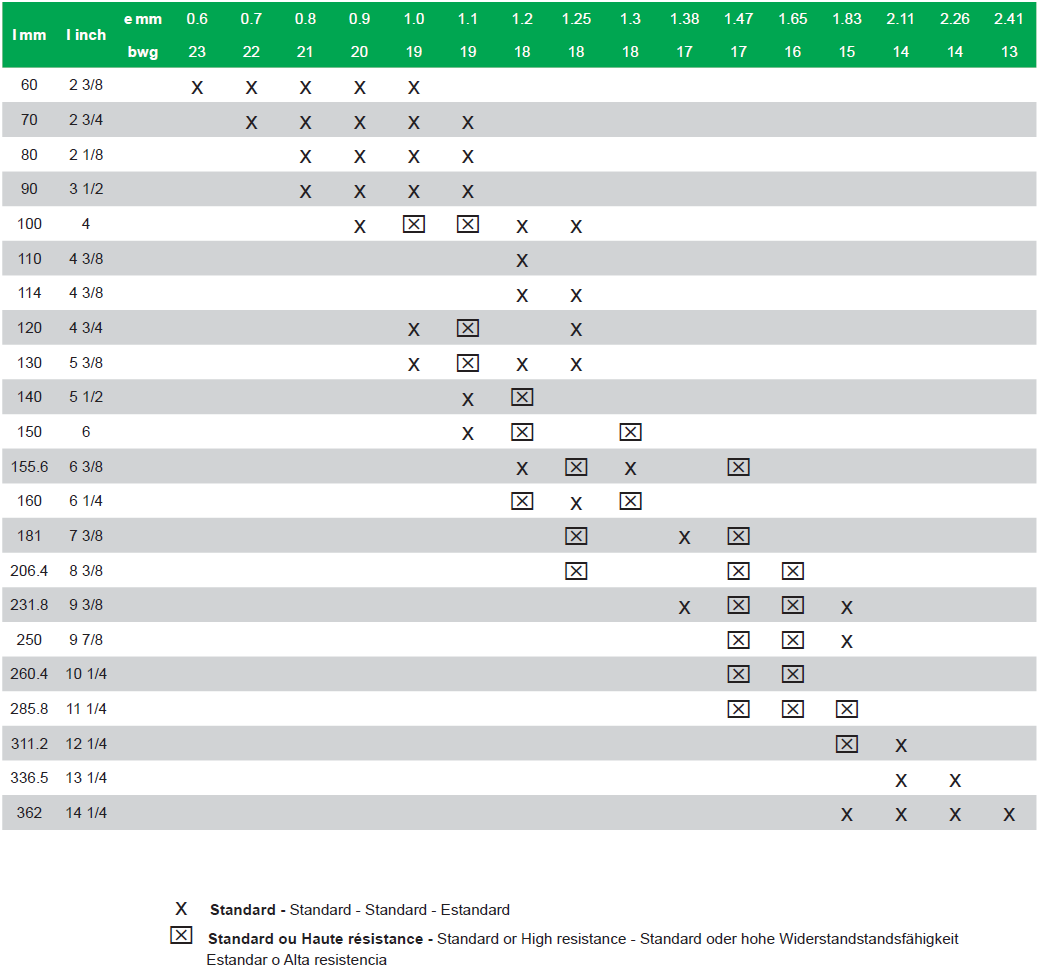 Bandsaw blades in coil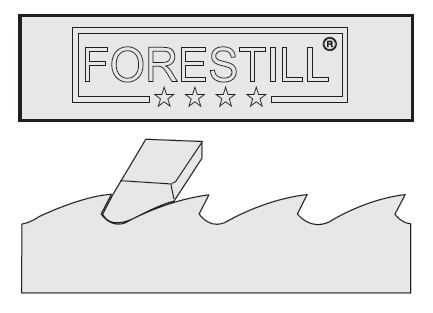 Forestill bandsaw blades in coil are available in raw or toothed steel coils.
According to your needs, we can make standard lengths, or lengths fitting a multiple number of the dimension of your bandsaw blades.
Toothed only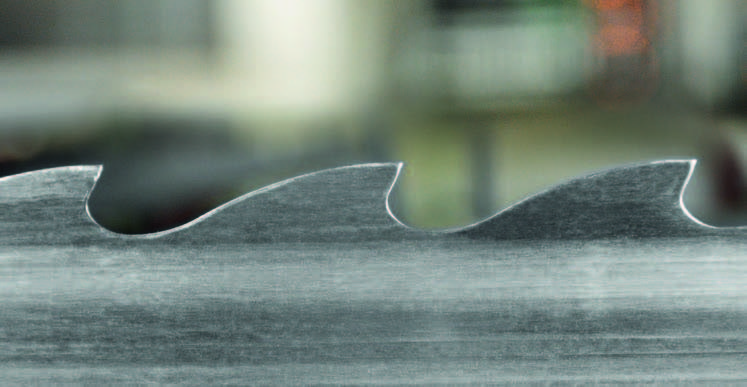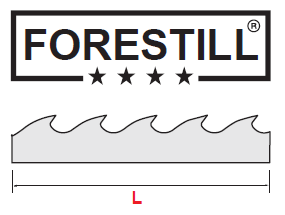 Available in coils or welded length, toothed blades allow you to give the finish you wish (crushed or stellited) with exceptional toothing quality, compliant with your profile requirements thanks to our digitally-controlled waterjet cut.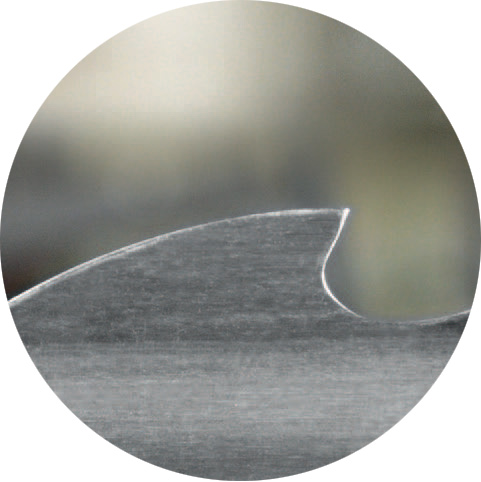 Swaging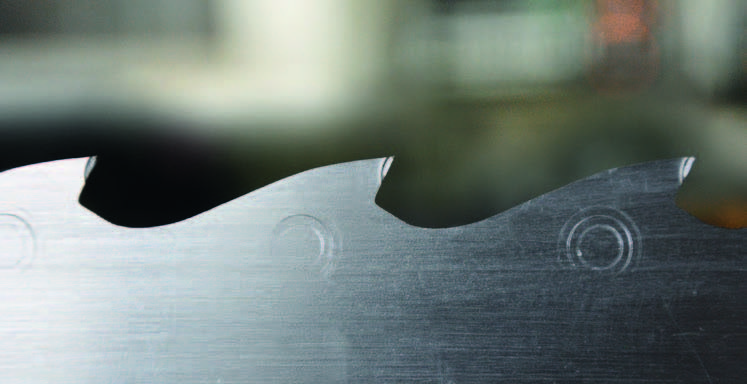 Swaging band blades are made in specific steel. They are a perfect compromise between sawing quality and autonomy in terms of maintenance.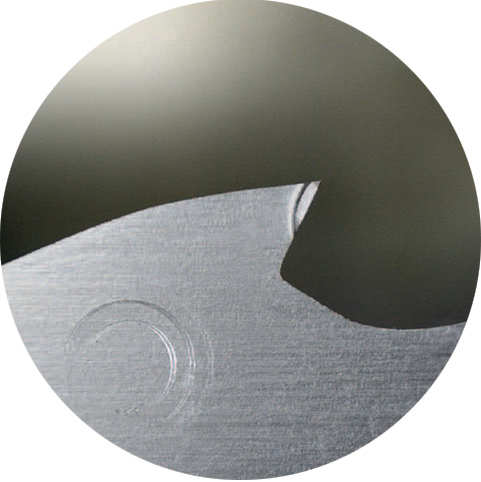 Forestell tipped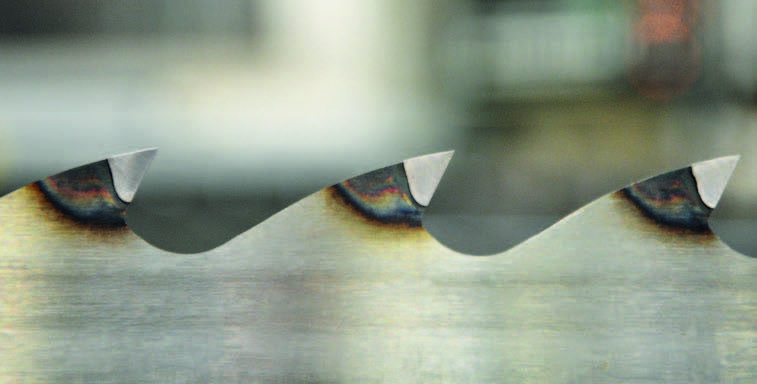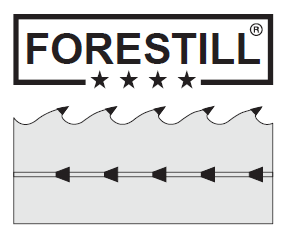 They are defined according to your application by our experts, cut in compliance with your profile requirements on a waterjet cutter, and sharpened on a digitally-controlled device. Forestell tipped band blades are the perfect balance between sawing quality and performance.
Variable pitch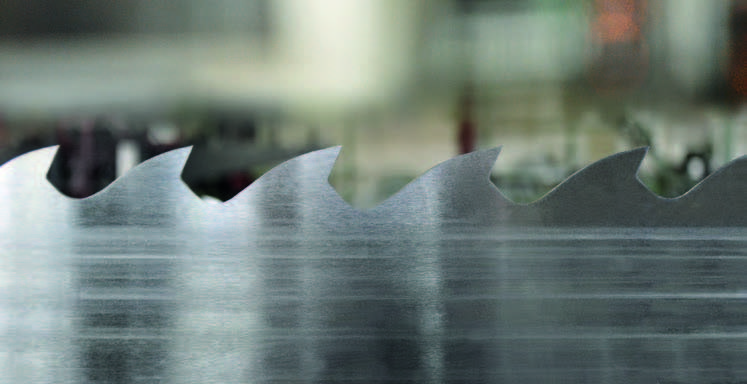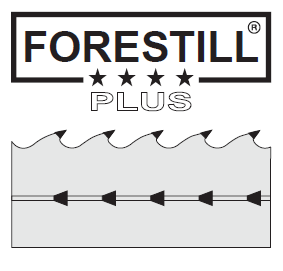 A modified version of our Forestill steel, this concept increases your sawing performance, allowing for extreme polyvalence of the band sawblade (different wood lengths, species, frozen wood...), as well as a remarkable reduction of noise and vibrations. Preliminary review is required before the first operation.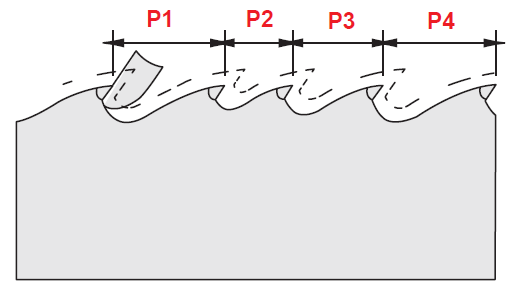 HM tipped TCT FORESTILL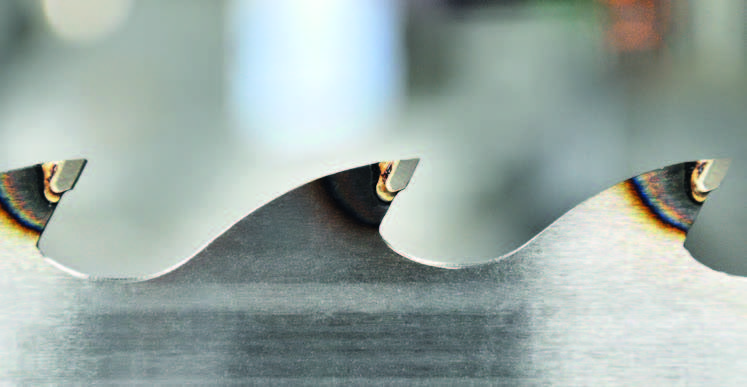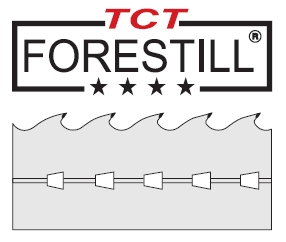 After several years of research within our study office, we created a genuine revolution in the world of sawing: our TCT FORESTILL carbide band sawblades. Tool life is 5 to 10 times longer, and it is extremely wear-resistant. Its characteristics increase the sawing quality, make it reliable whatever the wood species, and decrease the level of noise. Complete maintenance service is offered to ensure optimal use throughout its life cycle.
Sawing without sharpening.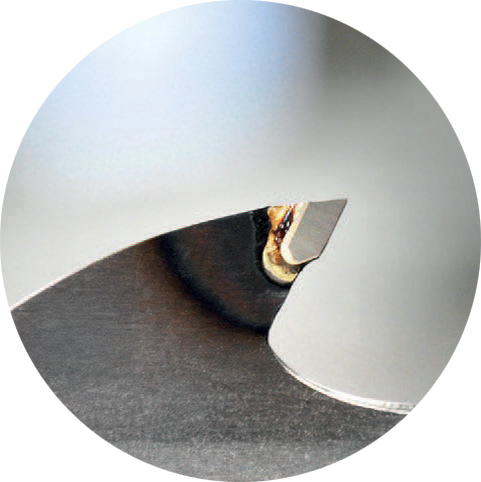 Options de finition
Frost wood teeth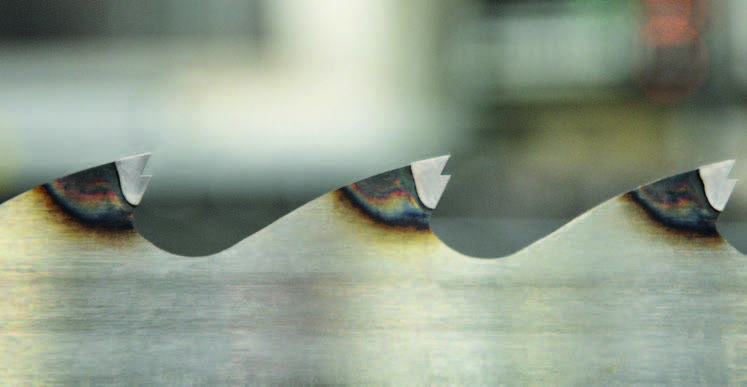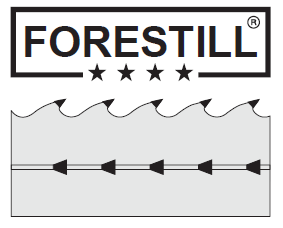 This technology, only available on Forestell gear teeth, ensures perfect sawing with frozen wood.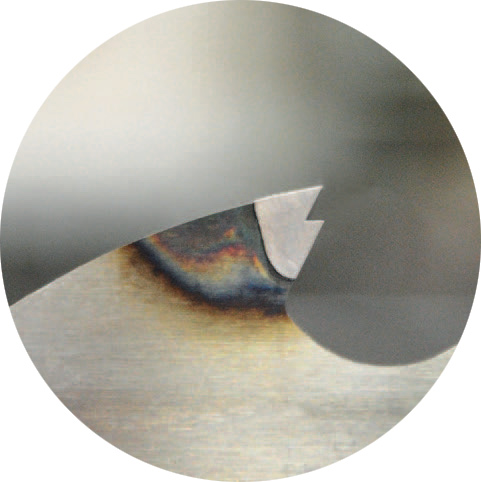 Chip breaker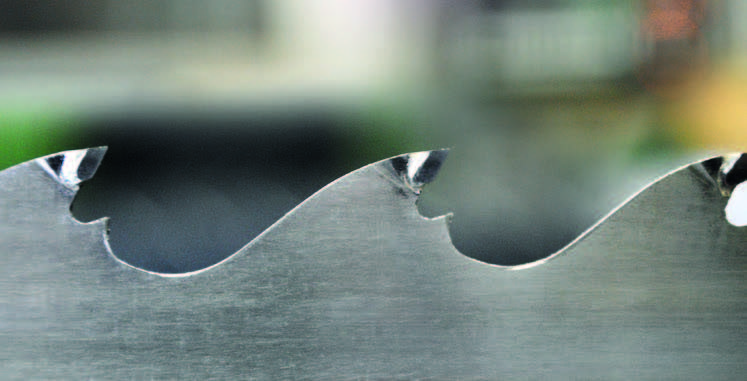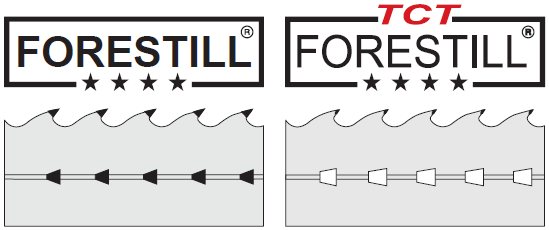 Available on welded teethed finishes, crushed, Forestell and TCT Forestill, chip breakers are particularly adapted in winter, when the wood is frozen to the center. This technology allows you to saw, including in the most rigorous conditions.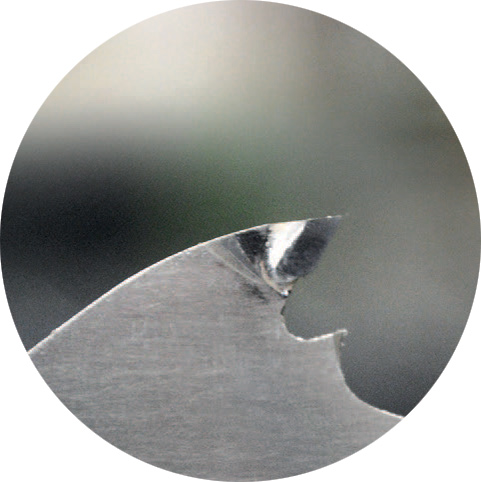 Body finish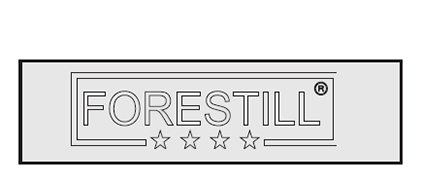 Strip steel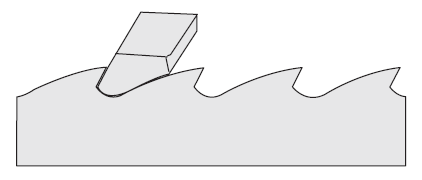 Toothed only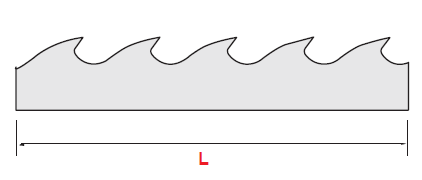 Lenght toothed only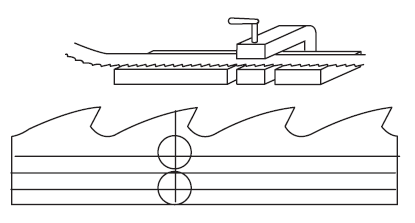 Planished, leveled, tensionned
Narrow bandsaw blades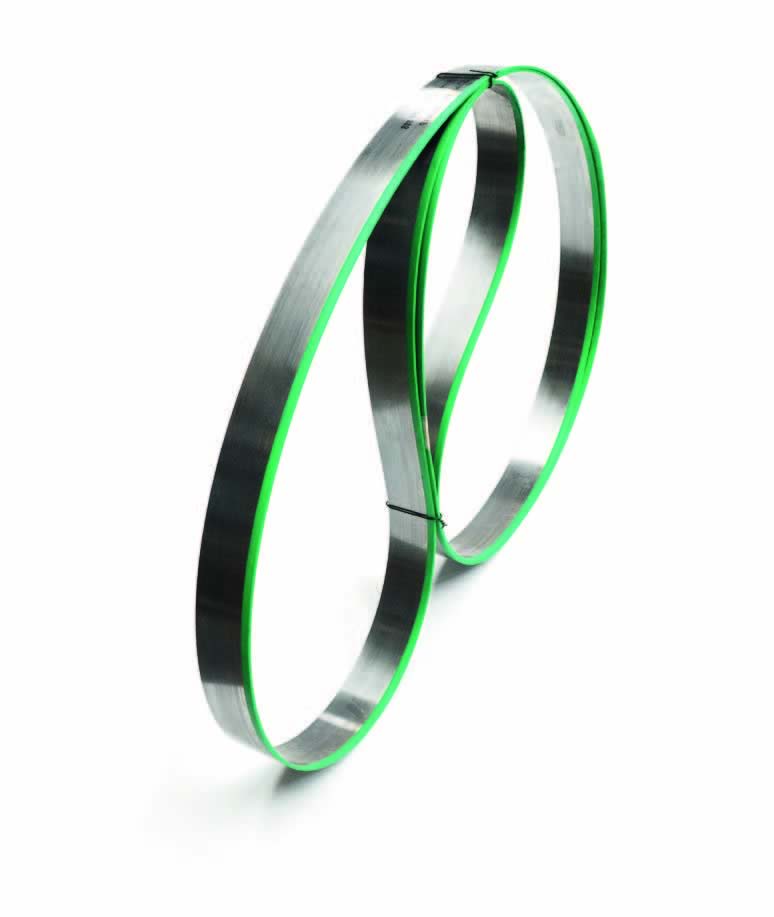 Forestill narrow bandsaw blades are available in several finishes according to their applications. Teethed, sharpened and set, sharpened, set and soaked with Forestell cover on all teeth or one tooth, or with carbide tips, our blades can be delivered in coils or as finished blades.

In coils.

Finished blades.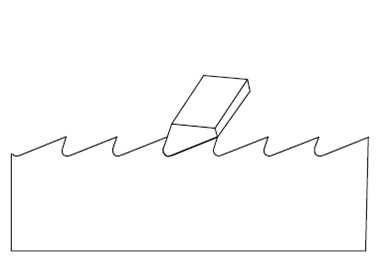 Toothed only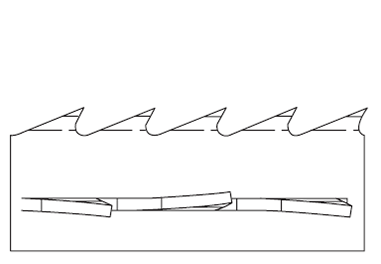 Toothed, setted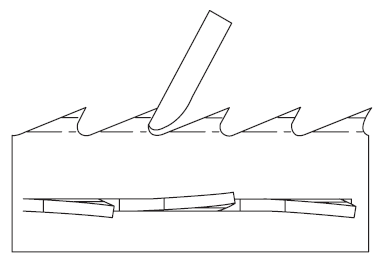 Toothed, setted, sharpened, planished, leveled, tensionned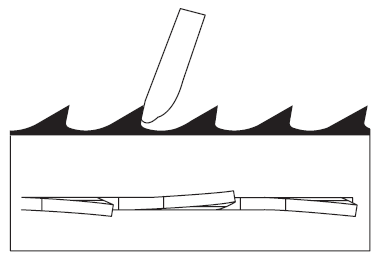 Sharpened, setted tempered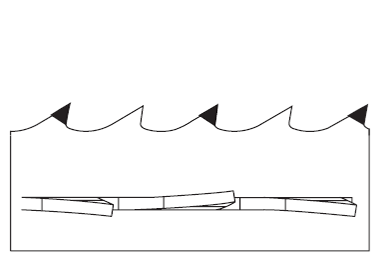 Forestell tipped 1/2 teeth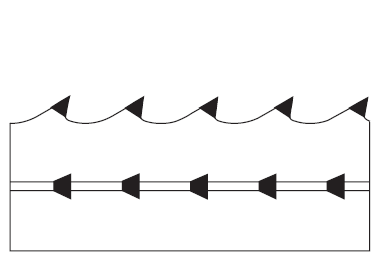 Forestell tipped



HYPER-CUT
®

bandsaw blades

This is the result of the work of our study office and our experience in the making of wide carbide bandsaw blades. Available in carbide or Forestell alloy, the HYPER-CUT blades ensure excellent cutting quality and everlasting life cycles.
TECHNICAL PERFORMANCES
The specific shape of its tips give it a sawing quality that is close to thicknessing, a polyvalence in all wood species and remarkable noise reduction.
ADAPTED SOLUTIONS
We can offer custom-made collaborations and material solutions to you, in order to become autonomous in the maintenance of these high precision blades.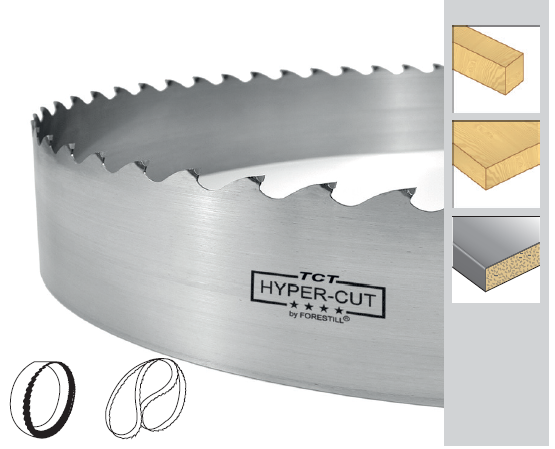 Enhance the life cycle of your blades: 3 to 4 possible sharpenings, outstanding cutting quality and tool life (up to 10 times higher than traditional blades*). Product designed for wood working and other materials (Fibrociment, plastic material, etc.).
* Tool life validated on both hardwood and softwood lumber, except exotic and some particular wood species.

FORESTELL HYPER-CUT
®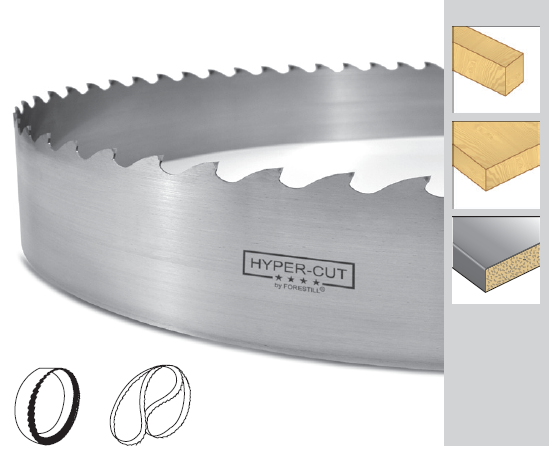 Exclusively designed for the industrial making of wood floors.
Increased material output thanks to a finer cutting line and a surface state close to thicknessing. Perfect straightness of the cutting line.
Carpentry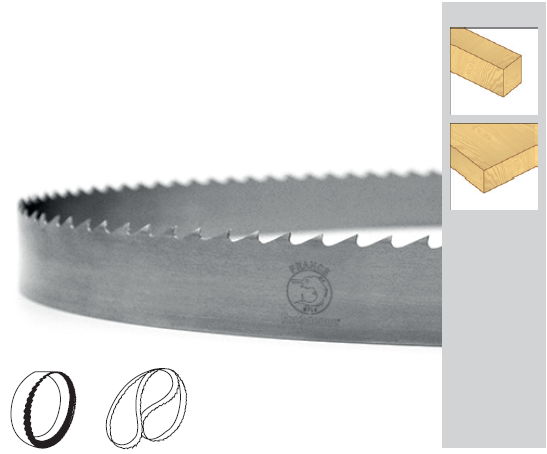 This blade is designed for wood work (soft, hard, exotic).
Available in sharpened and set NV or GD toothing, sharpened, set and soaked.

Mobile sawmill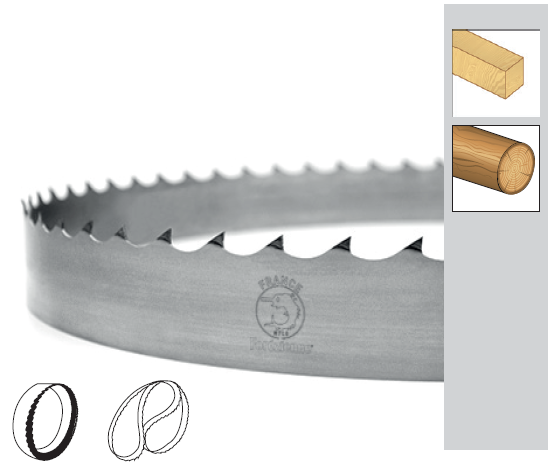 This blade is designed for sawing logs with a mobile saws. Available in sharpened and set GD toothing, sharpened, set and soaked, with Forestell cover and Forestell on alternate teeth.

Multi purpose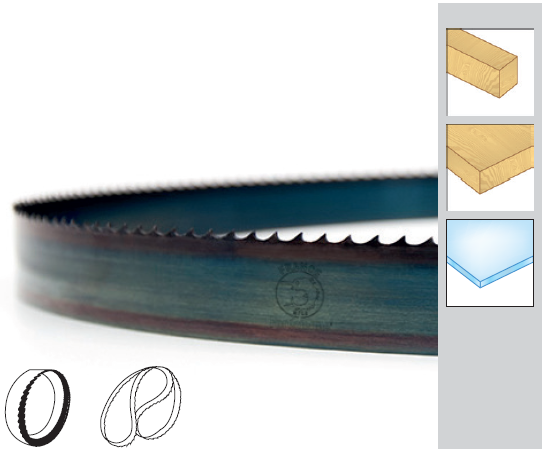 This blade is designed for cutting wood, plastic, PVC...
Metal and wood cuttind (carbon)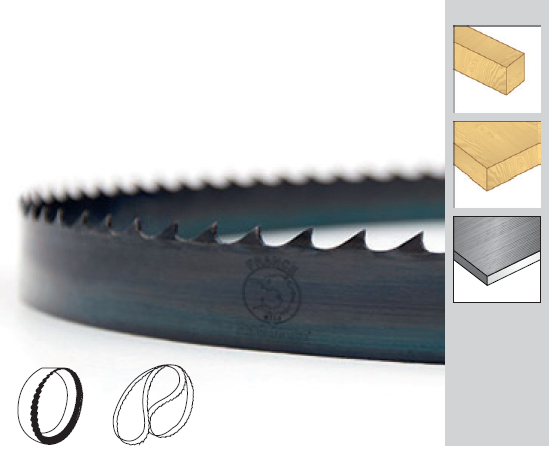 This blade is designed for cutting soft materials, cast iron, aluminium and wood.
Available in two finishes :
N = 10° angle.
H = 0° angle.
Carbide concretion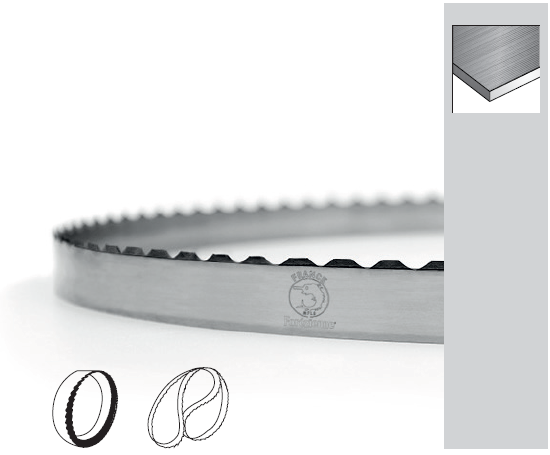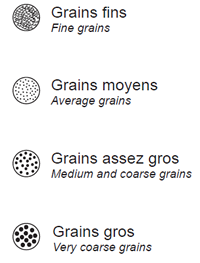 This blade is designed for cutting hard, ceramic, glassfiber, Kevlar, graphite, carbon, concrete, composite plates, stratified, plywood, stranded wire, hollow wires, hollow metals, wall plates.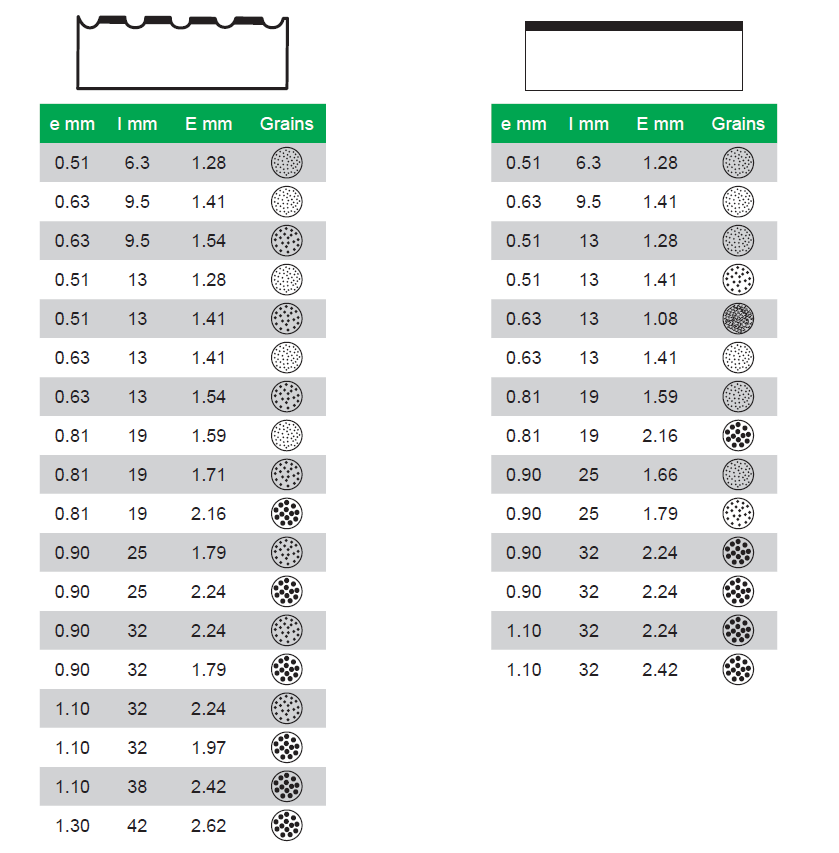 Food industry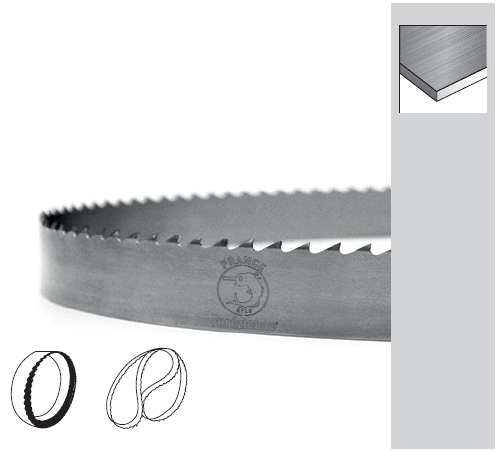 This blade is designed for cutting food products (frozen food, meat, dough...).


Flexible materials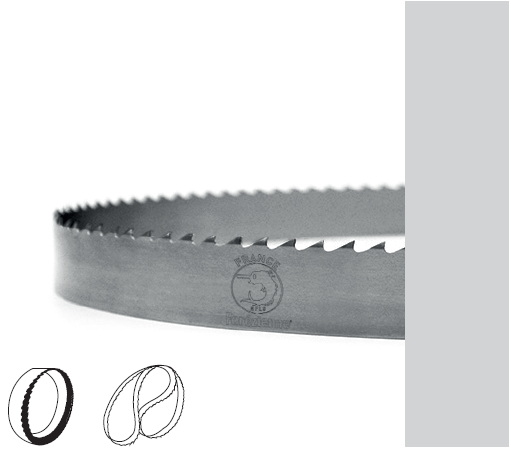 This blade is designed for cutting soft materials such as leather, foam, rubber, carton...


M42 Bi-Metal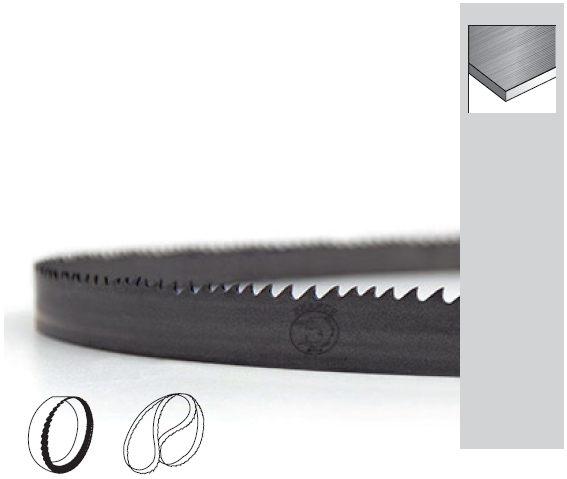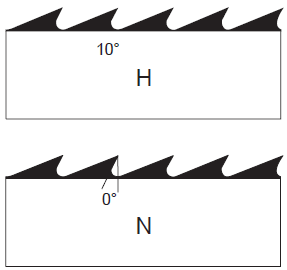 Designed for cutting steel, metal...
Available in standard or variable pitch, and in two finishes :
N = 10° angle
H = 0° angle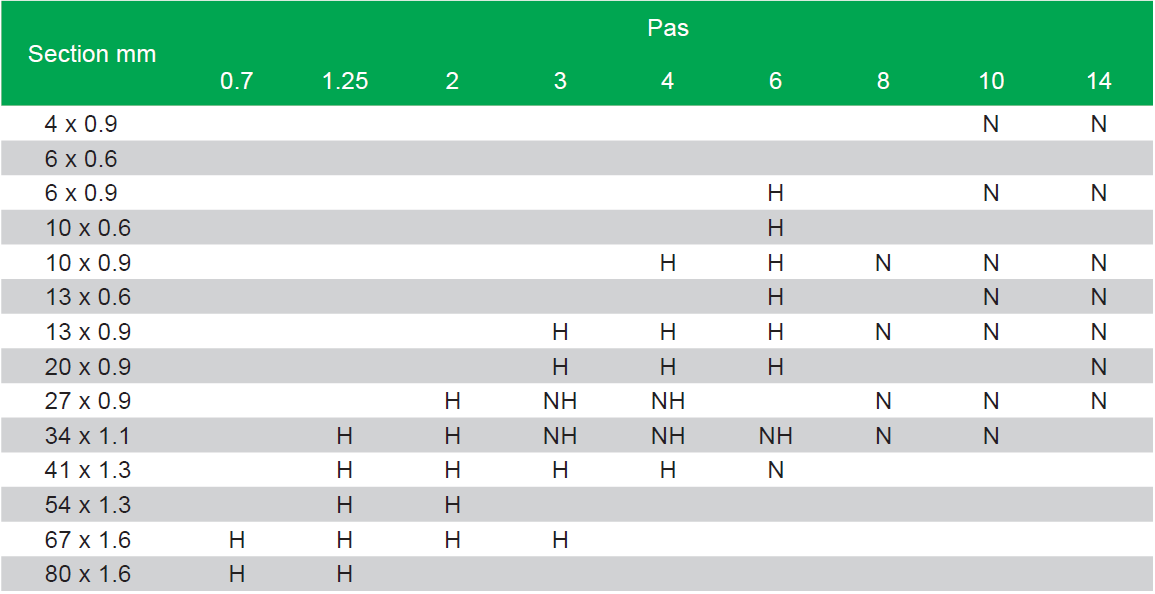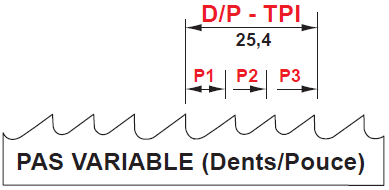 BI-MASTER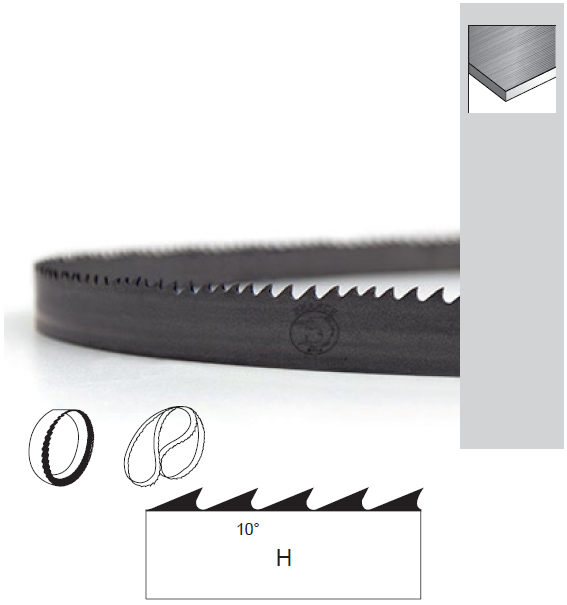 This blade is designed for cutting ultra-resistant steel, titane, stainless steel, Inconel®...
Available in standard or variable pitch.


Recommendations for use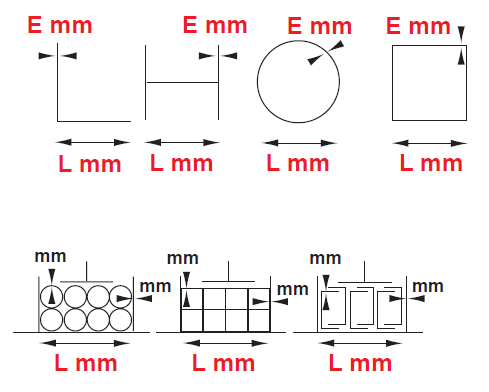 Recommendations for using your bi-metal sawblades and bi-metal in standard or variable pitch.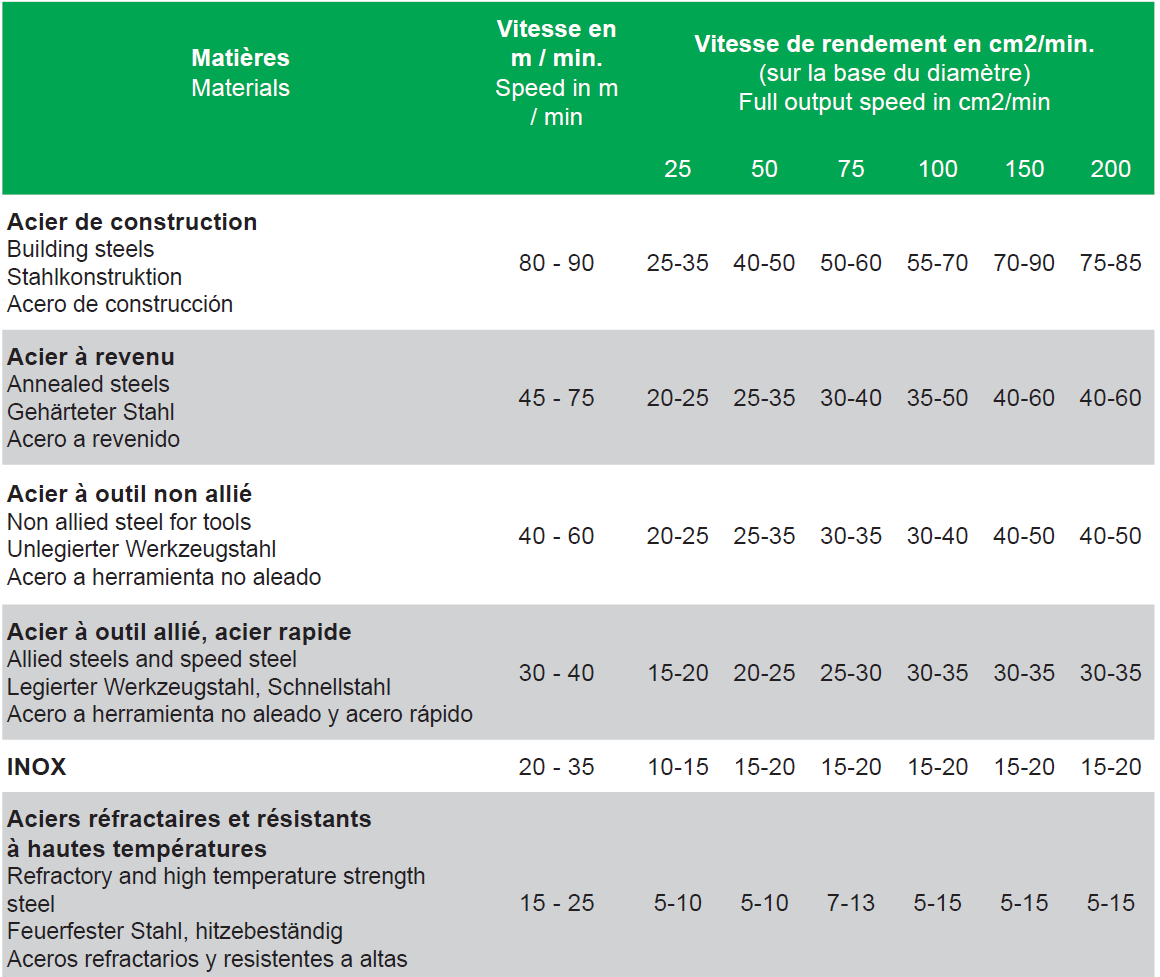 Pitch for solid cross-sections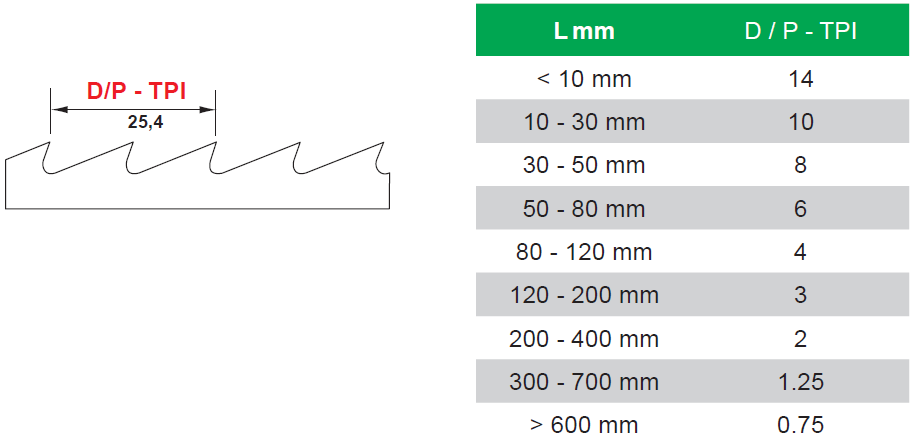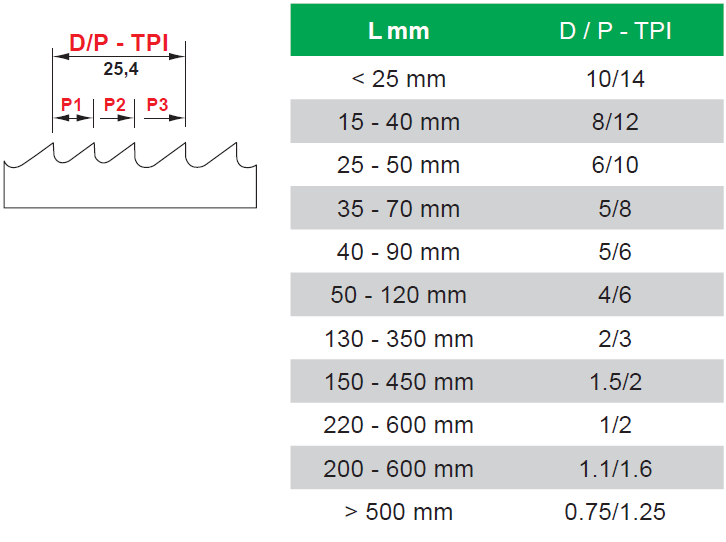 Pitch for pipes and profiles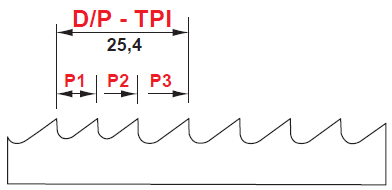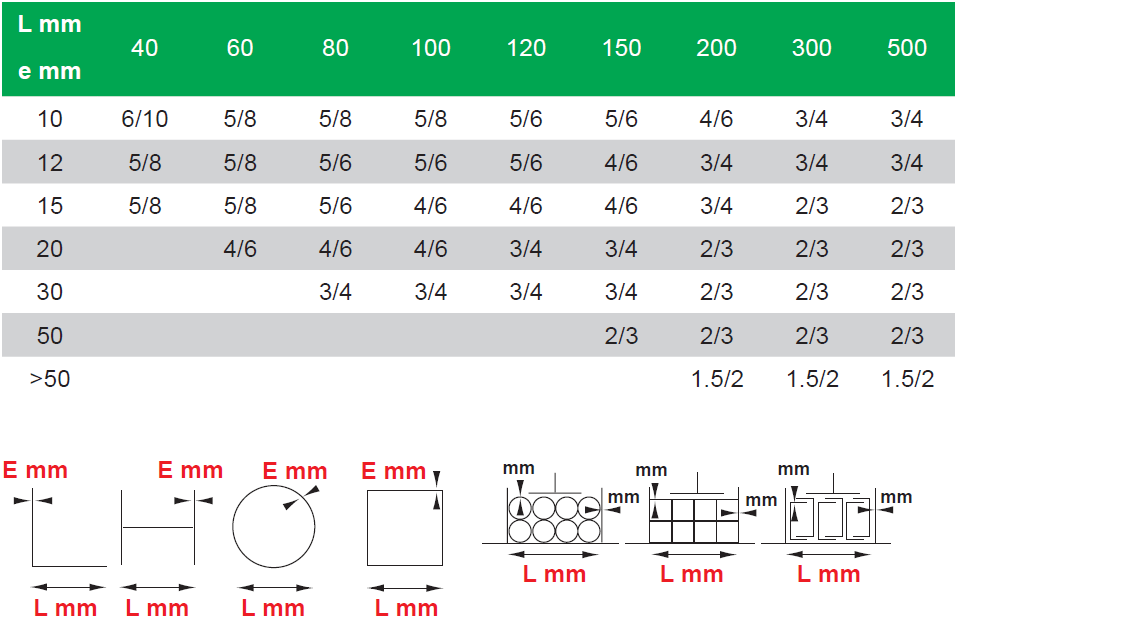 Carbide tipped circular saw blade for the cut of stainless steel. Extra cutting life.
| Ø | Kerf | Body | Z | Al | Keyholes | Type | Code |
| --- | --- | --- | --- | --- | --- | --- | --- |
| 160 | 1.6 | 1.4 | 40 | 20 | 2/6/32 | ATB | LC1604003M |
| 190 | 1.6 | 1.4 | 48 | 30 | 2/7/42 | ATB | LC1904805M |
| 210 | 2.0 | 1.6 | 54 | 30 | 2/7/42 | ATB | LC2105403M |
| 216 | 2.0 | 1.6 | 54 | 30 | 2/7/42 | ATB | LC2165402M |
| 230 | 2.0 | 1.6 | 56 | 30 | 2/7/42 | ATB | LC2305602M |
| 250 | 2.2 | 1.8 | 60 | 30 | 2/10/60 + 2/11/63 + 2/12/64 + 2/7/42 | NF TF POS | LC2506012M |
| 254 | 2.2 | 1.8 | 60 | 25.4 | | NF TF POS | LC2546001M |
| 300 | 2.2 | 1.8 | 72 | 30 | 2/10/60 + 2/11/63 + 2/12/64 + 2/7/42 | NF TF POS | LC3007220M |
| 305 | 2.2 | 1.8 | 72 | 25.4 | | NF TF POS | LC3057201M |
| 350 | 2.4 | 2.0 | 84 | 30 | 2/10/60 + 2/11/63 + 2/12/64 + 2/7/42 | NF TF POS | LC3508412M |
| 355 | 2.4 | 2.0 | 84 | 25.4 | | NF TF POS | LC3558401M |